Save Money with Do It Yourself Vinyl Graphics Installation
Power Graphics can help save you money by selling you the vinyl graphics only. This gives you the opportunity to save money on installation fees. If you have basic mechanical skills, can measure and have the time you can now install your vinyl graphics yourself! With the new vinyls with air release systems there is no reason to worry about bubbles. The videos below will give you the basic instructions, tools and Power Graphics will provide the vinyl.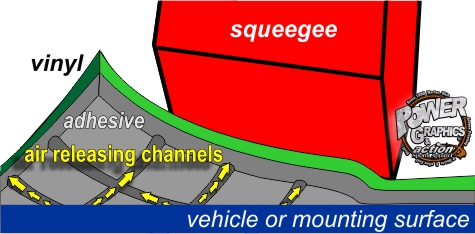 Air Release System Makes Installation a Snap!
The diagram to the left shows the adhesive is dsigned with air releasing chanels.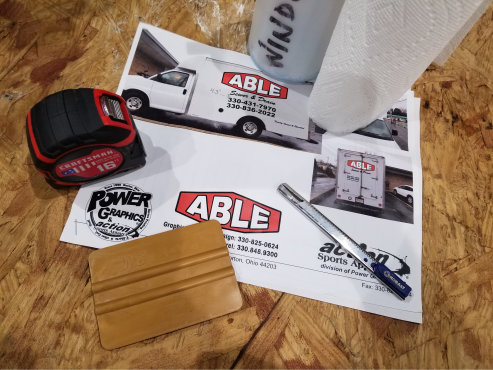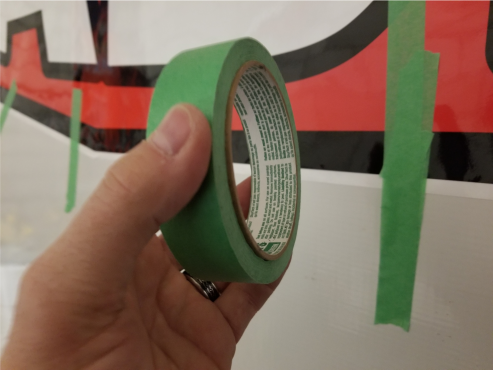 Tape Measure
Squeegee
Painters Tape
Knife
Windex
Paper Towels
Step By Step Vinyl Installation
The temperature should be 55 degrees or higher.
Inside is best or outside in the shade with no wind.
Wash vehicle, dry and wipe down vinyl areas with Windex.
Use the painters tape to position the graphics. It may be helpful to have two people.
Measure the graphics using a line on the vehicle. Do not measure from the ground. Most vehicles sit on a slant. You want the graphics to follow the lines of the vehicle.
Use a long piece of tape from top to bottom centered on the graphics. Secure the left side with extra tape! Using the hinge method explained in the video pull back the vinyl and start to pull off the release paper. At the halfway point, or the hinge, cut off the release paper. Work the vinyl from left to right. Keep it as straight as possible and use original marking system if needed. The original marking system is generally used on long pieces to assure the vinyl is straight. See in videos above.
Once the vinyl is down slowly push down to assure good adhesion.
If you are working with vinyl letters you will carefully remove the release paper at this time.
That's it. Just take your time and stop to watch the videos again if you have questions. 
You can visit Power Graphics in Norton, Ohio, call us or email us a message! Explain to us what you need and give us the measurements. Our experianced staff will help you with the graphic design work and produce the vinyl.
Our staff can assist in measuring when needed. Below gives you a basic reference for measuring and vinyl graphics placement ideas. 
Always remember we're here to help. We have professional vinyl graphic installers available.