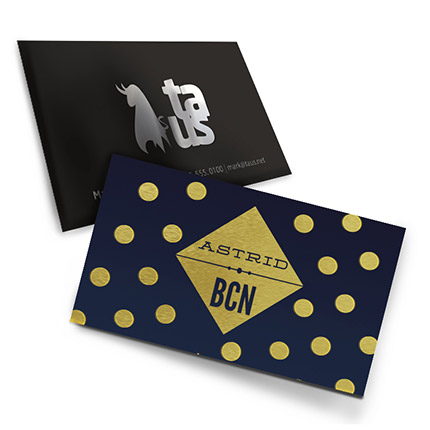 Business Card Printing Center
Power Graphics, Inc. has designed well over ten thousand business cards for companies around the country. Our expertise in creating a powerful marketing tool for your business or organization is almost unparalleled.
Printing business cards is easy at Power Graphics. We can design or we can use your design. Have an old business card you want duplicated? Our graphic designers can help. We also offer a variety of printing techniques that will set your business apart from the rest of your competition!
Full Color 16pt or 14pt UV Coated standard business cards. 
Left: Foil Works Business Cards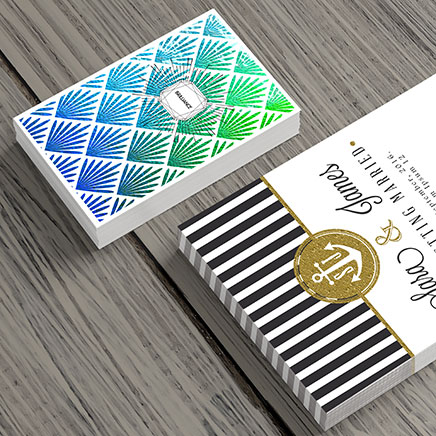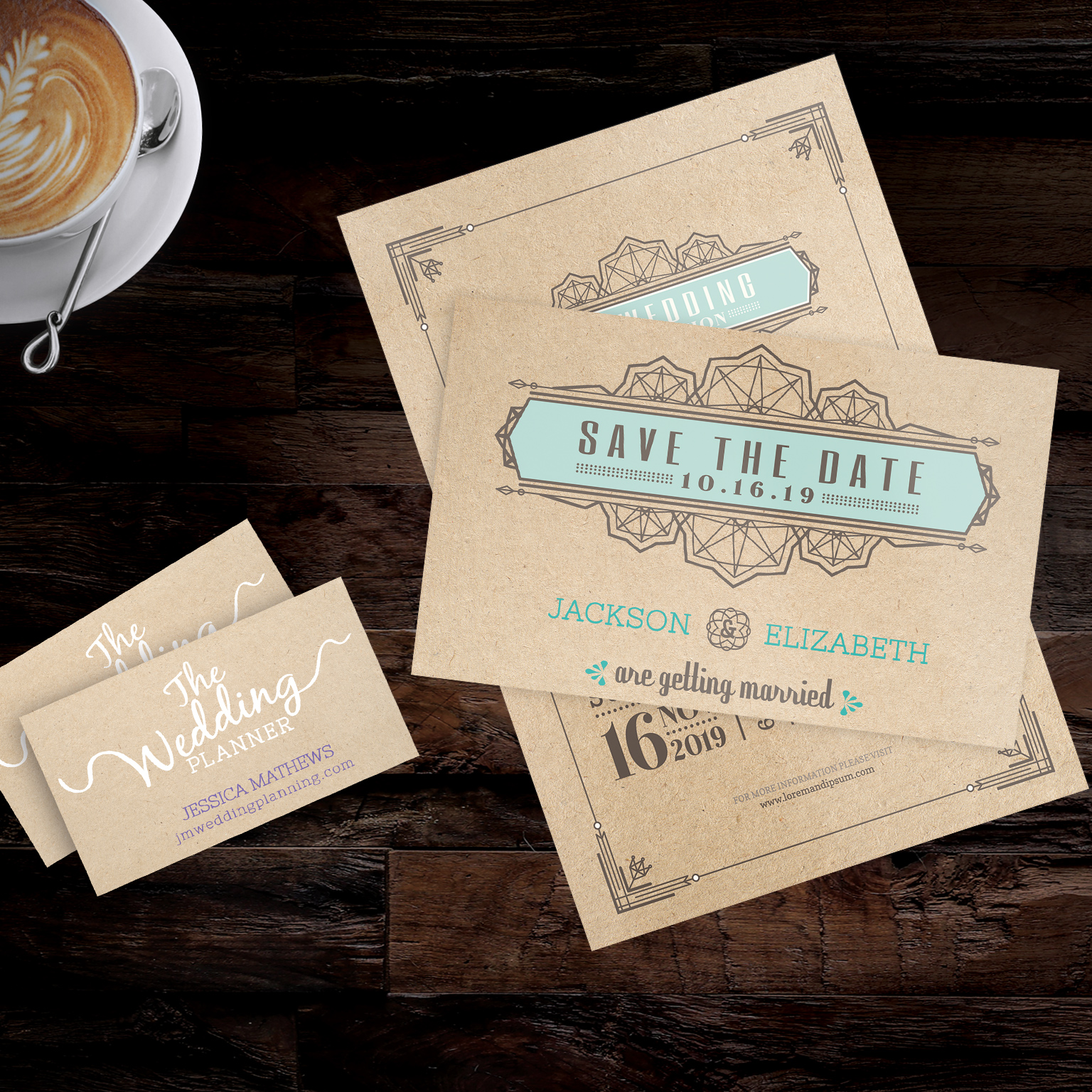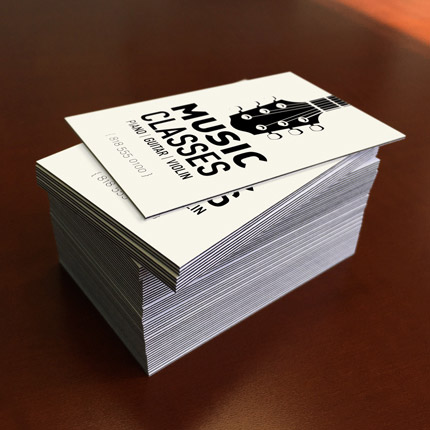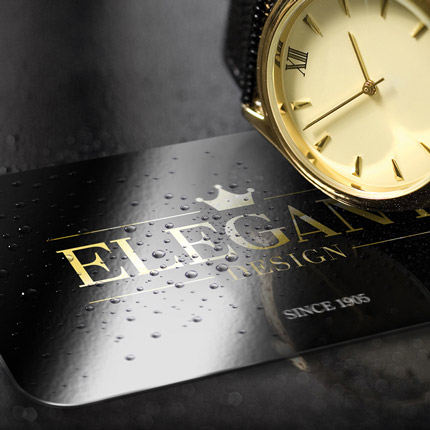 Akuafoil Cards
Radiance never seen before – dazzle you can afford! Akuafoil gives you a wide range of CMYK colors with a sparkling foil finish and an ideal reflection that is priced to give you a true competitive advantage. State-of-the-art features allow you to produce large solid areas as well as reversed out areas of foil. You can produce foiled half tones, gradients and have multiple colors in foil on the same design. 
Brown Kraft Cards
For a homegrown, personalized touch! Thick, rich, light brown kraft paper has natural fibers and subtle visible flecks to give Kraft Cards an organic look and feel. The stock is 100% recycled lending to its rustic, eco-friendly appeal.
Edge Cards
Give customers an edge over the competition with Black EDGE Cards! Sturdy, multi layered Black EDGE Cards consist of a black-colored core fixed between two layers of bright white, premium uncoated face stock. The bold edge color on these 32pt ultra thick cards gives them a sleek and modern appeal so they stand out from the rest!
Luster Cards
Upgrade your product line with brilliant high-gloss Luster Cards! Allow your Business Cards and Sell Sheets to make a big impact at Business Meetings with extra durable, water resistant, Luster Cards.  Luster Cards are printed with high-quality offset equipment on 16pt card stock and then they are laminated with an optically clear 3mil high-gloss laminate on both sides, making the cards a colossal 22pt thick.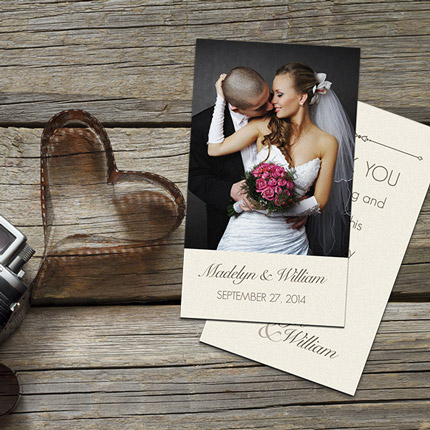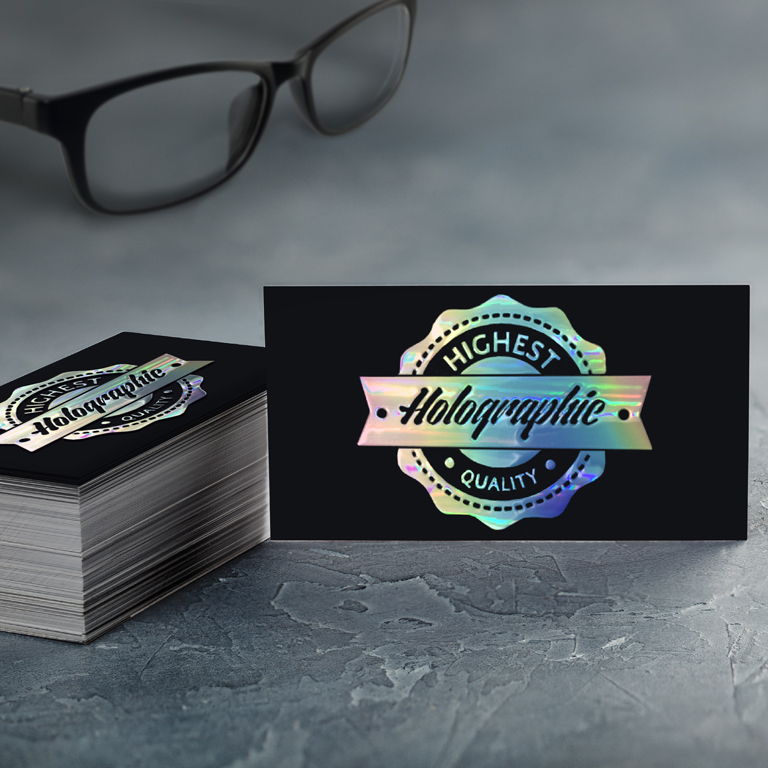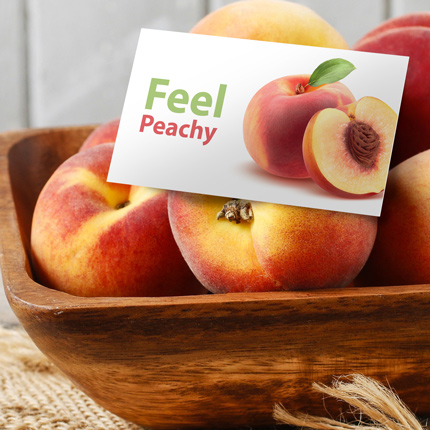 Natural Cards
Light cream in color with a smooth finish, our 14pt Natural stock gives cards an organic look and feel. Make a strong first impression by handing them out at Business Meetings, or mail them out to executives for a lasting impact. Round Corner options are available on Business Cards & Announcement Cards, and half scored Greeting Cards & Flat Announcement Cards both include the option to add matching Natural Blank Envelopes. 
Painted Edge Cards
Give customers an edge over the competition with Solid PAINTED EDGE business cards! This card is a sturdy, ultra thick, 32pt with plenty of room on the edge for featuring color accents. Choose from a selection of eye-catching, vivid colors, or classic white. Create an unmistakably bold and solid statement.
Raised Foil
Suede with Raised Foil. Add a flash of brilliance to suede cards that you can see and feel. The combination of raised foil contrasted with the velvety smooth suede foundation creates a tactile experience that customers can see and feel. Metallic embossment effects can enhance amazing detail in images, special accents, and logos. 
Suede Cards
Feel the difference with Suede Cards – soft to the touch, they bestow luxury to brands and create high impact marketing pieces. Suede Cards are printed with high quality offset equipment on 16pt card stock, then they are laminated on both sides with 1.5mil scuff resistant, soft velvet laminate, which give them a substantial thickness of 19pt.
Above is a small sample of the speciality business cards Power Graphics can print for you company or organization. Contact us to learn more.
Call us or stop in today to start the process. Our staff can assist with questions.
Call us at: 330.825.0624